BBQ Fest Updates and Happenings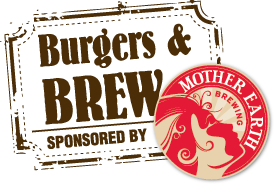 Here it comes: BBQ BASH weekend! Are you prepared? Kinston has a lot going on this weekend, and Mother Earth Brewing is right at the heart of it. It's time for the 31st Annual BBQ Festival on the Neuse.
Here's what's happening: FRIDAY, MAY 4th 6:00pm.
Mother Earth Brewing is the proud sponsor of the Annual Chamber Burger and Brew Bash!

Don't be late: at 6:00pm, activities will get moving! Get downtown early if you want to grab one of the best burgers around.
The Chamber Classic Burger will feature hand-shaped fresh burgers, cheese, chili, slaw, mustard, ketchup and onions or you can dress your burger to taste! More in the mood for a Dog? No problem, the Chamber has got you covered. They will offer Hot Diggity Dogs for sale. Of course, you'll need some killer sweet potato fries to complete your meal by the river.
Pre and Post feast, head into Mother Earth Brewing's Taproom, where you know you'll see a bunch of familiar faces. Join the crowd and grab yourself a fresh, locally brewed craft beer.
Hang out in Mother Earth's Beer Garden and then watch a dynamic fireworks show at 9:30pm. Just like last year, this promises to be an awesome display.
So, what can you expect on Tap? Of course, all the top-notch brews you have come to expect from MEB (Weeping Willow Wit anyone?) PLUS, Smokey Heart, a smoke ale created just for the Taproom by MEB's own Matt Heart, will make an appearance! Yep, you can count on us to pour some ultra-delicious brews.
Saturday May 5th offers brewery tour after brewery tour and lots of incredible live music.

If you have not had the pleasure of going on a brewer tour, Do IT this weekend. You'll get a sneak-peek behind the scenes (haven't you always wondered what they do in there?) learn more about beer, and get to know some of the MEB staff. Don't worry; we let you take your beer along on the tour!
Then, on the North Street Mother Earth Stage Pseudo Blue from Raleigh
Starts at 10:00 am!

This is a band that's hard to define- except to say they're awesome! Pseudo Blue is versatile, funky, bluegrassy and can put on one incredible show! No doubt; Pseudo Blue will please everyone in the crowd!
You'll see old friends, meet new friends, and enjoy the best of Eastern NC! We look forward to chatting with you this weekend in the MEB Beer Garden!
Peace, Love and Beer… Trent