BEER BENEFIT January 20th Taproom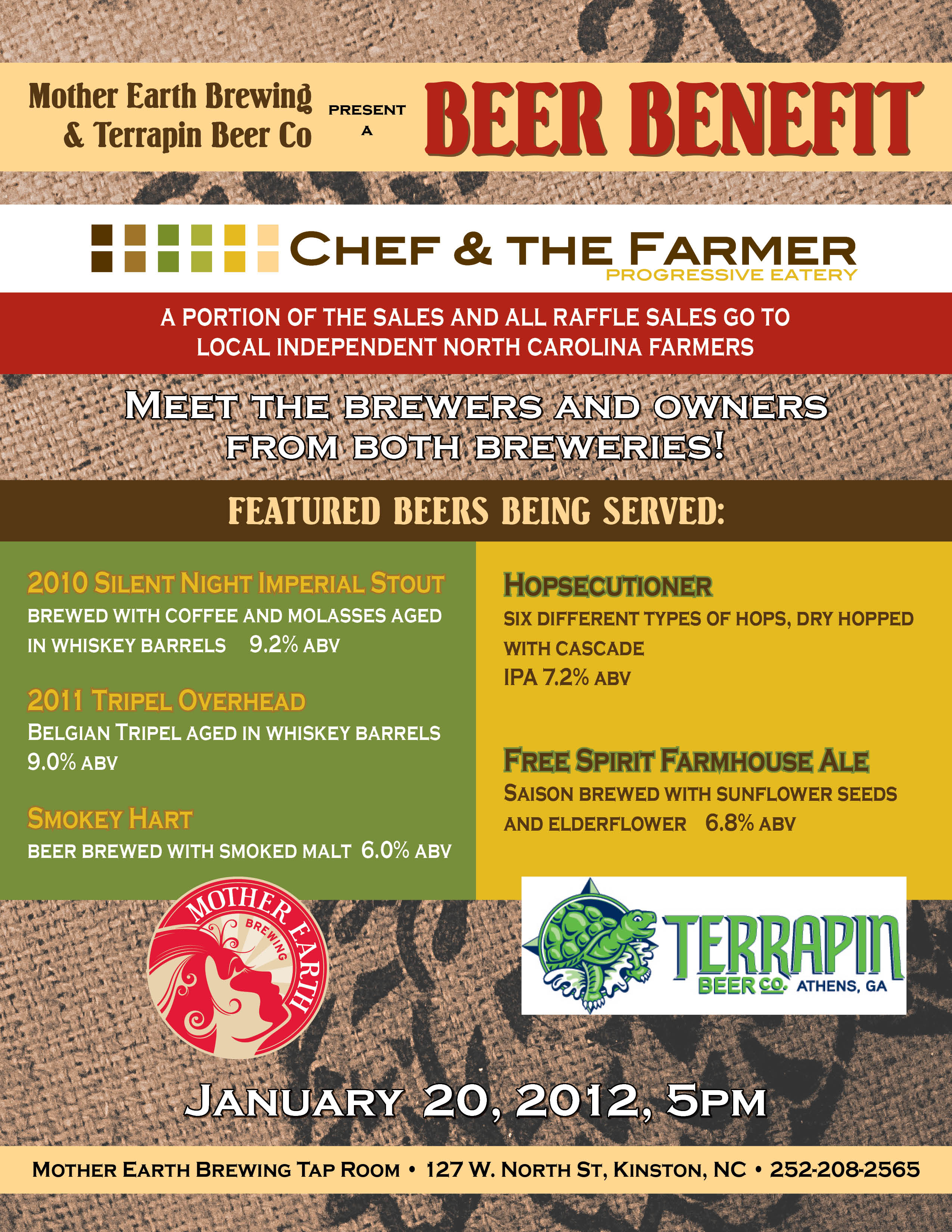 Mother Earth Brewing and Terrapin Beer Co. are honored to host a BEER BENEFIT on January 20th, 2012, starting at 5pm in the Mother Earth Brewing Taproom. The BEER BENEFIT will help local farmers stay on their feet while one of their biggest customers, Chef & the Farmer, gets back to offering die-hard followers a most unparalleled dining experience.
As you have no doubt heard, our local restaurant, Chef & The Farmer, suffered a fire in their kitchen during the early morning hours of Saturday, Jan. 7.  Although the fire was quickly contained, this top-notch, award winning eatery suffered extensive smoke and water damage, and remains closed for the foreseeable future while the damage is assessed and cleanup begins.
We planned an amazing collaborative beer dinner with our friends from Terrapin Beer Co.- to be held on January 20th at Chef &The Farmer. Clearly, the beer dinner won't be happening; but in its place we're hosting a BEER BENEFIT on the very same night.
Chef & the Farmer, is "a restaurant that celebrates the heritage and bounty of North Carolina's Coastal Plain" to that end, "Chef Howard works with over 15 small farms in eastern North Carolina to supply the restaurant with proteins, produce, dairy, nuts and grains" according to their website. Many of you can attest to the incredibly fresh, multidimensional flavors experienced during an evening at "The Chef." Many of the farmers that owners Ben Knight and Vivian Howard work hand-in-hand with will endure a substantial economic strain during this time of clean up and restoration. When we asked Ben and Vivian for guidance on the best way we could help, they suggested we do something to assist these local farmers, many of whom operate very small specialty farms that sell most of what they grow to the restaurant. 
So, we're doing what we can to help them by doing what we do best:  having a party!  On Friday, January 20, the originally scheduled date of the dinner, we're having a Beer Benefit at the Mother Earth Tap Room & Beer Garden, presented jointly by Terrapin Beer Co. and Mother Earth Brewing.  We'll feature some awesome rarities from both breweries on tap (see below), as well as having John Cochran, Spike Buckowski, and Dustin "Ranger" Walker of Terrapin and Trent Mooring, Stephen Hill and Josh Brewer of Mother Earth on hand to meet beer lovers and talk about their creations.  We're also having a schwag raffle, with tickets available for purchase at the event that could net you some really awesome goodies from both Terrapin and Mother Earth.  Please remember: All of the proceeds from the raffle, as well as a portion of the Tap Room sales for the evening, will go to help these local farmers stay on their feet while their largest customer rebuilds and gets back on their own two feet.
We know that thanks to the support of both the Kinston community and the craft beer community, Chef & the Farmer will be back and better than ever soon, sourcing the freshest possible ingredients from these farmers once again.  Come out and celebrate with us on Friday, January 20.  This is certain to be a very special and memorable evening for everyone involved.  We can't wait to see you here!
SPECIAL DRAFTS
From Terrapin Beer Co.:
Hopsecutioner IPA (7.2%) - This Killer IPA earns its name by using six different types of hops while still remaining an aggressive well balanced beer.
Free Spirit (6.8%) – A very special and limited release, Free Spirit is a saison brewed with Sunflower Seeds and Elderflower.  One of only three kegs to make it to North Carolina!!
From Mother Earth Brewing:
Tripel Overhead (10.0%) – Our spring seasonal, a Belgian-style Tripel ale aged in Heaven Hills bourbon barrels.  Vintage 2011.
Silent Night (9.5%) – Our winter seasonal, an Imperial Stout, brewed with coffee and molasses, and aged in Heaven Hills bourbon barrels.  Vintage 2010.
Smokey Hart – A special one barrel pilot release.  Details to come!!



Thank you for helping your local farmers.

Peace, Love and Beer... Trent