The Mother Earth Organic Hop Project
Did someone say organic hops??  Mother Earth did, and we are currently in the process of growing our own hops right here, in good old Eastern North Carolina.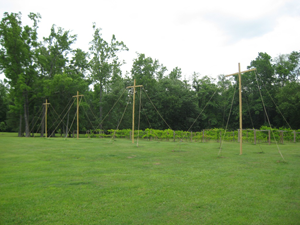 We planted Cascade, Centennial, Chinook, and Galena hop rhizomes and they are really taking over.  We know it will be a long growing process but we expect them to grow approximatley 20 feet within the 1st year and even more than that in years 2 and 3.  We are crossing our fingers on all the hops and are really giving them the tender, love, and care they need.  Hopefully, in a couple of years we will be able to use our locally grown organic hops in one of the future Mother Earth brews that are yet to come.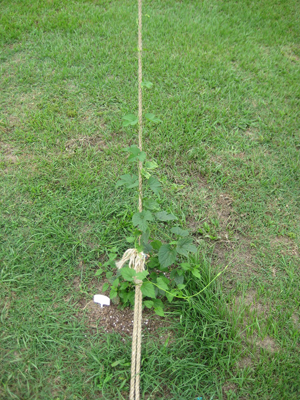 As far as construction goes............  THE WALLS ARE OUT!!!!!!!!!!!    The last remaining wall has come down and we will have our windows installed within the next couple of weeks!!!!!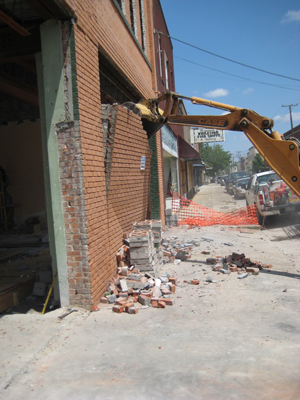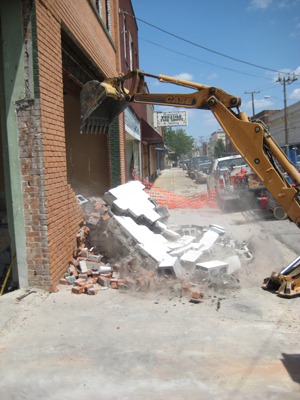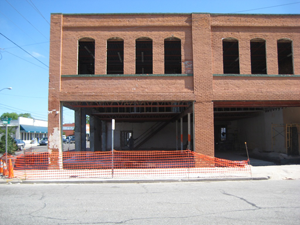 Mother Earth continues to make progress and all our contractors continue to amaze me with their dedication, optimism, and prompt timing.  As I have said in some previous post all our corporate offices will be located on the 2nd floor and overlook the brewing area.  We have insulated the entire ceiling with soy based insulation. Soy based insulation will give our ceiling a better seal making it more energy efficient and more comfortable than traditional insulation.  Soy insulation is also water and soy based which makes it more environmentally friendly.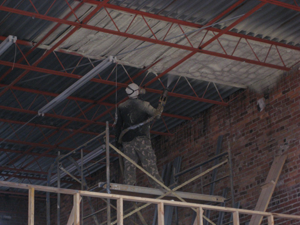 To take it a step further we are insulating our interior walls with recycled denim/blue jean insulation. Our interior insulation will be composed of recycled blue jeans making it 100% post recycled natural fiber and LEED certified.
Helping the environment is a major interest of Mother Earth and we are working really hard to incorporate new, unused, and undiscovered eco friendly materials and concepts.
We also have wonderful brick masons that have done a great job.  Thanks to Marty West and his great crew we have been able to salvage all the bricks that were originally in our building and re-use them.  We have really focused hard on salvaging anything original and using it in our remodel. We have bricked around the upstairs windows and they have recently been installed!!  We still have many more windows to go but that is a good start!
As you can see a lot has happened since my last blog!  We have also installed all our trench drains and run plumbing to them as well.  The City of Kinston has been great to work with and has really done so much to make the construction of Mother Earth as smooth as possible.  The city installed a 2 inch water line for us that will give us more than enough water pressure to make our great brews.  Joe and Ernie got the trench drains set a couple of weeks ago and our plumber, Buck, has hooked to the new 2 inch line and run all the underground plumbing.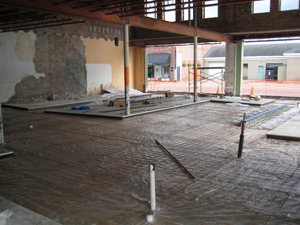 We have been working really hard getting all the plumping in place and making sure everything has been completed before we pour all the concrete.  We really wanted to "Dot our I's and Cross our T's"  b/c once the 12 inch concrete, is poured there is no turning back.
Everything has been completed, the ground has been prepped, and the concrete is ready to go down.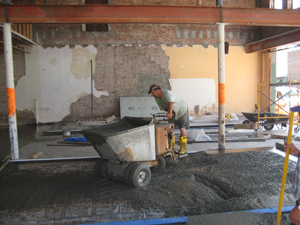 THE CONCRETE WAS POURED TODAY!!!!!!!!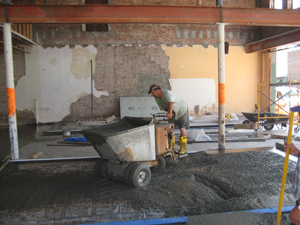 We have really been excited about getting the concrete poured.  Getting this massive slab of concrete is a huge step for Mother Earth.  We have all our contractors ready to go and everything should start to come together very quickly.  We will have windows going in the downstairs within the next week.  We will also begin framing our downstairs bathroom, workroom, lab, and boiler room within the next week as well.  HVAC is getting ready to start in the next couple of days and the painting started today as well!  Electricians have been working diligently for a couple of weeks and we are starting to see a lot of progress in all our electrical work.  Thanks Triple R for providing great service in addition to great work!!! We are constantly working in all aspects and will be seeing drastic changes in the building within the next three weeks.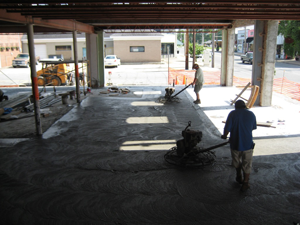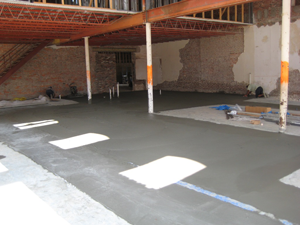 We are also scraping the walls and washing all the brick on the interior of the brewery to bring the original look back to reality.  We are really excited about all the things we have done to preserve this historic downtown building, not to mention the environment.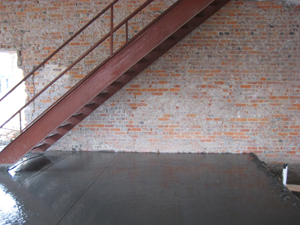 Mother Earth continues to work hard every day to make sure each and every one of you will have some unbelievable brews to drink within the next couple of months.  I am starting to see the light at the end of the tunnel and that makes me extremely happy!  We are constantly thinking of new ways to preserve the environment and provide all of Mother Earth's friends awesome brews that will give every one the passion and love for Mother Earth that all the members of the Mother Earth Team share.  I will be blogging again soon with all the exciting updates that will be going on in the next several weeks.
Peace, Love, and Beer..............................TM