SILENT NIGHT POSTER DESIGN CONTEST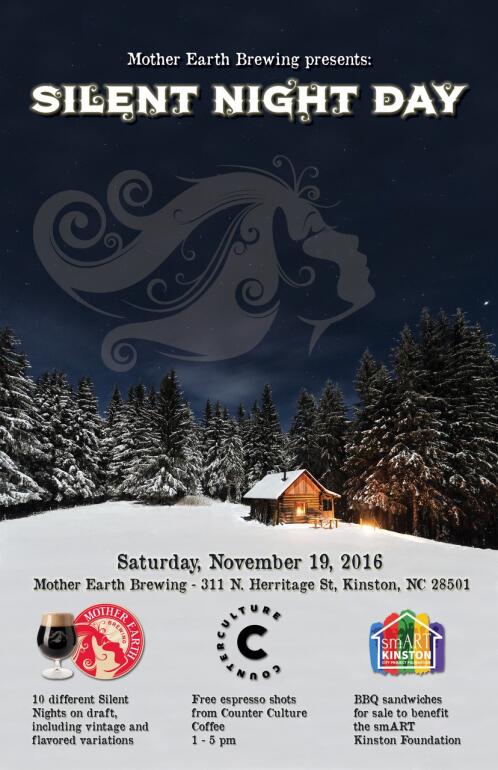 Here at Mother Earth Brewing, we look forward each year to celebrating the release of Silent Night, our award-winning Barrel-Aged Imperial Stout. This release party is our biggest event of the year, and we don't want you to miss it. What's more, we want you to be a part of it!
Every year we release a one-of-a-kind piece of art that commemorates the year's Silent Night vintage. And we want you to design it.
Design a unique, creative and eye-catching 11"x17" poster to commemorate Silent Night Day 2017. The 2016 winner designed by artist Nicole Edwards and is shown here to get your creative juices flowing. Your poster can be as creative as you like, but we will be using the winning design to promote the event, so it needs to include the following elements:
- Mother Earth Brewing, 311 N. Herritage St, Kinston, NC 28501
- Saturday, November 18, 2017
- Multiple versions of Silent Night on draft, including vintage and flavored variations
- FREE espresso shots from Counter Culture Coffee 1-5pm
- BBQ for sale to benefit the smART Kinston Foundation, by pitmaster and Mother Earth employee Brad Smith.
Logos for Mother Earth Brewing, Silent Night Barrel-Aged Imperial Stout, smART Kinston, and Counter Culture Coffee are available for download on our website for inclusion in your poster design if you wish.  Click here for logo and image gallery.
The artist selected to represent Mother Earth's Silent Night Day 2017 will be our VIP guests at our release event! You and a guest will be invited to hang out with the whole Mother Earth crew and celebrate Silent Night Day 2017 in style. We'll give you a space to exhibit your work (both on this project and otherwise) and to sign posters for attendees. We'll hook you up with three of the first bottles of Silent Night 2017 to come off the bottling line. Later in the evening, we'll send you out for dinner, and finally, we'll put you up on Saturday night at the Mother Earth Motor Lodge, Kinston's newest mid-century hotel, just blocks from the brewery!
We'll need your completed design submitted no later than September 10, 2017 at midnight.  We'll notify the contest winner by September 15.  You can email your design to contest@motherearthbrewing.com.  (If the attachment is too big, scale it down to a manageable size, and we'll work with you to get a high quality version before printing.)  Don't forget to read the fine print in the official contest rules here! 
If you have any questions that aren't addressed here, just email contest@motherearthbrewing.com and we'll get back to you. 
Good luck!