4 WORDS....Great American Beer Festival!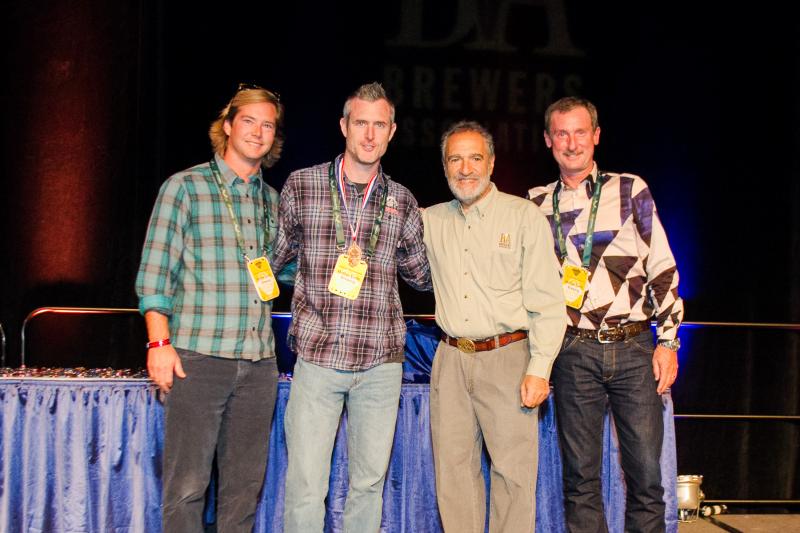 (Pictured from Left to Right, Trent Mooring, Josh Brewer, Charlie Papazian, Stephen Hill - Awards Ceremony GABF 2013)
Wow, October is coming to and end!  I remember back at the end of September saying, "Man, October is going to be a busy month," and now it is October 29th!  Where did the time go??  Well, looking back, I can tell you where the time went.  Beer Festivals, beer festivals, and some more beer festivals!
One beer festival in particular was the Great American Beer Festival held in Denver, Colorado.  Josh, Stephen, and I head out to Denver every fall for this festival and it is exactly what the name portrays: Great!  I would also mention that it is the mama jama of American beer festivals with more beer than anyone has probably ever seen.  I have listed below of few of the facts about the Great American Beer Festival:
- The festival sold out in 20 minutes during the public ticket sale in 2013, compared to 45 minutes during the public ticket sale in 2012. In 2007, the festival sold out the week of the event.
- 3,100+ beers in the festival hall—the biggest selection of American beers ever served.
 - More than 48,000 gallons of beer.
 - 49,000 attendees (includes ticketed attendees, brewers, judges, volunteers and journalists).
 - 624 U.S. breweries served in the festival hall (46 more breweries than 2012).
 - GABF had a $7 million economic impact on the city of Denver in 2012, according to Visit Denver, the city's convention and visitor's bureau.
We always really look forward to going out to Denver every year for the GABF, not for just the festival but for all the other events going on around Denver during the festival.  We always go visit our favorite spots and see some friends we have made along the way.  We always kick off the GABF festivities with a dinner at Osterio Marco, one of our favorite restaurants located downtown on Larimar Square. Their pizza is amazing!! We then usually head to Star Bar, hands down one of our favorite places to go and Justin is always happy to see us and make some amazing beer cocktails.  He is a certified mixologist and creates some of the best beer cocktails anyone has ever partaken in.  Euclid Hall is also one of our favorite spots to hit around the city as well and we usually visit them multiple times during our stay.
 This year we were fortunate to spend some time at Leopold Brothers Distillery and gain some knowledge from Todd Leopold, co-owner and Head Distiller.  Leopold Brothers has always been one of our favorite distilleries and to get sit down and spend one on one time with Todd was an experience we will always be grateful for.  Being in the early stages of Mother Earth Spirits it was awesome to sit down with Todd and hear his stories of the trials and tribulations of the craft spirits industry. Sitting with Todd and hearing his stories reminded us of the early stages of the brewery and how much fun we are going to have with the development of Mother Earth Spirits, and that feeling is bittersweet!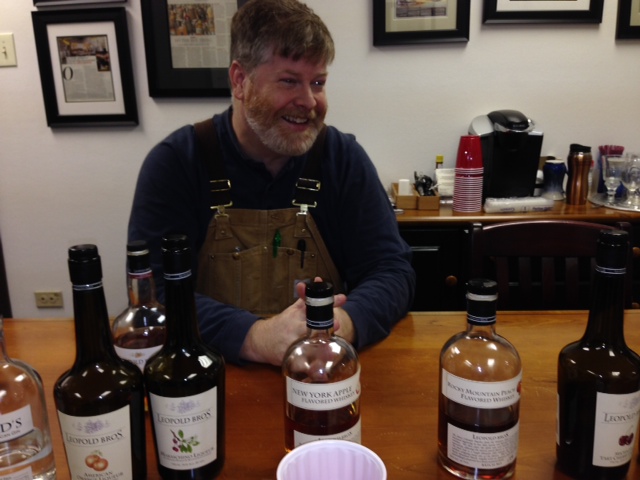 (Pictured Todd Leopold - Leopold Brothers Distillery - Denver, Co.)
 The entire experience of the GABF and all the events is a whirlwind of a week but for most brewers their eyes are set on the competition and awards ceremony that takes place on Saturday morning.  Just like every awards ceremony morning, it starts off with Stephen and I going to breakfast and Josh going to breakfast with his friend Eric.  Josh has a long time friend named Eric that lives in Fort Collins and is a professional triathlon trainer and he always comes in for the awards ceremony and to hang out.  He has come the past 2 years and we have won medals the past two years, a bronze for Dark Cloud last year and a bronze for our Bohemian Pilsner this year. Guess what, Eric better be coming back next year, we all think he is our good luck charm!
 To win a medal at the Great American Beer festival is one of the highest honors you can receive in the beer industry.  Our brewers work so hard every day to make sure our beer is stylistically correct and consistent, which are two of the things we are most proud of at the brewery.  We are so humbled to be honored at the top event in the County and it just makes us want to work even harder to continue making great beer and revitalizing our hometown, keep pushing the envelope, and continue living the dream.
 Cheers to living the dream……Trent