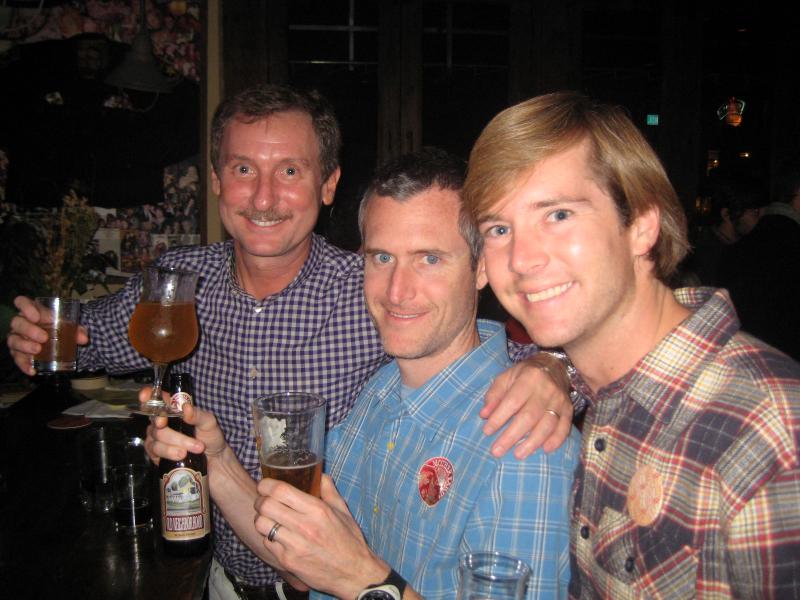 (Pictured from Left to Right, Stephen Hill, Josh Brewer & Trent Mooring - Blind Tiger NYC)
Wow, it seems just like yesterday we were writing about the end of summer and beginning of fall, and now fall seems to be here in full force!  That's a good thing though, I don't think Old Neighborhood has ever been drinking as delicious as it is right now!
 This time of year is always a fun time for us with a lot of things to look forward to.  We have been rocking a lot of festivals lately and traveling all around for beer dinners across the state.  We just returned from the Brewgrass Festival in Asheville, we are heading to Charlotte this coming weekend for Charlotte Oktoberfest, head to Durham on Oct. 4th for World Beer Festival, and leave for Denver on October 9th for The Great American Beer Festival!  So Yowza!!! Holy beer fest! Right?
 In addition to all festivals and dinners, we are getting ready to launch Mother Earth in the Northern Virginia area.  We have partnered with Guiffre Distributing Company and we will start selling early in the middle of October.  The new Virginia areas will include Arlington and Fairfax County including the cities of Falls Church, City of Alexandria, City of Fairfax, and all military installations around this territory.  Release parties and other promotional events will begin the week of October 21st and take place at various locations in and around the northern Virginia area. Initially, Endless River Kolsch, Weeping Willow Wit, Sisters of the Moon IPA, Dark Cloud Dunkel, and Fall Seasonal, Old Neighborhood will be offered for sale in six-pack bottles and on draft.
 In additions to all the fests and the Virginia release we are excited to be pouring in Wilmington for the Lighthouse Beer Festival on October 19th.  This year the fellows over at Lighthouse Beer & Wine have put together a few events to precede their great festival for Wilmington Craft Beer Week.  We are super excited to be teaming up with James Doss over at RX restaurant to do a beer dinner on October 16th! We couldn't be more pumped up about this event!  I have been friends with James for a long time and we can't wait to see what he cooks up, it is sure to be spectacular.  Additionally, we'll be pouring beer at the first ever Voracious Beer Tasting the night before the festival!  This intimate event will feature 20 breweries pouring some really awesome rare brews, and we're excited to be a part of the event!
So, do you think we cant fit anything else in October? Well, we can!  October 18th is gong to be a day to remember and definatly a night not to miss in Kinston.  We are teaming up with the good folks across the street at Ginger 108 for an asian infused beer dinner.  We will have a lot of surprises coming for this dinner as well as a special ginger beer that Brew Master, Josh Brewer brewed on our 3 BBL pilot system for the occasion.  If that was not enough, the next day, October 19th is the release of the much anticipated Windowpane Fig and Raisin in the Mother Earth Tap Room.  So dont hesitate to turn Kinston into a weekend destination for that incredible weekend in October.
 As you can see we have a lot going on in October, so come on out and see us at Mother. Always rememeber, the fall season is a great time of year to sit back, hang out with frineds, enjoy some delicious brews, and watch the leaves on the trees transform into the natural art of the North Carolina landscape.  That last sentence was deep, yea??
 Holla…..Trent