A Week in the Life of Mother Earth Brewing
Mother Earth Brewing was one of the many major sponsors of the 4th Annual Run for the River road race in downtown Kinston.  I have always loved our local river and what it brings to the community and I had so much fun running in the race.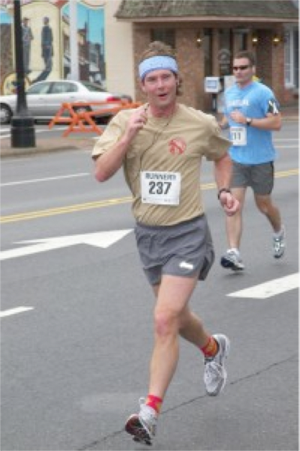 It was a hot and humid Saturday morning and I was ecstatic to be running in the Kinston 8K.  I have run this race three years prior and was so excited to be running and representing Mother Earth Brewing.  It is funny how the weather works in Eastern North Carolina but it seems to be different every year for the Kinston 8K.  It has been windy, cold, very cold, and this past Saturday really muggy and hot.  We recently got our first run of Mother Earth T shirts and I was so excited to be wearing one.  I decided on race day that Mother Earth was sponsoring so I was wearing my Mother Earth T shirt.  Needless to say a tan 100 % cotton T  shirt on a hot and muggy day gets really wet and heavy.  However, I made it to the finish line probably weighing and extra 10 pounds but I showed my support for Mother Earth. It just so happens that the finish line was one block from the brewery and you can see the future brewery in the background of the picture below.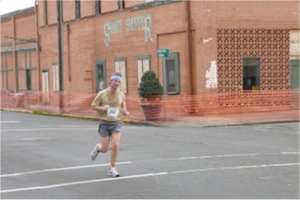 We have had a lot of fun designing our logo, labels, tap handles, and everything else that goes along with starting and designing a brewery.  As I said earlier, we are so excited to have our first run of t shirts and all our friends seem to be having fun wearing them.  It is great when my friends wear their shirts at the same time, or is it???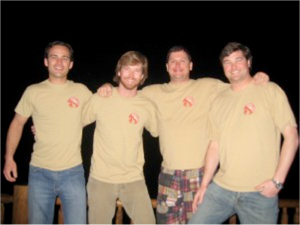 Anyway, enough with all that.  We are steadily working on the building and are really starting to make some headway.  We had an unbelievable amount of steel delivered last week and they are putting a lot of that in right now. We had some structural things that we needed to take care of and the more creative we get the more steel we need.  Hopefully, all the steel will be in by the end of the week and we can start cutting floors, walls, windows, outside walls, and pretty much anything you can cut.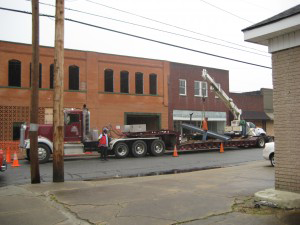 My man Joe has been a blessing.  He and my good friend Ernie Everett have helped us out a lot and have showed me that they can do about anything.  They really seem to be excited about our project and I consider myself very lucky to be able to work with skilled and great people like Ernie, Joe, and all the crew at Ernie Everett Site Prep.  Joe told me he could do anything, even operate a crane and he was right!  He drove that crane a lot better than I can drive my car???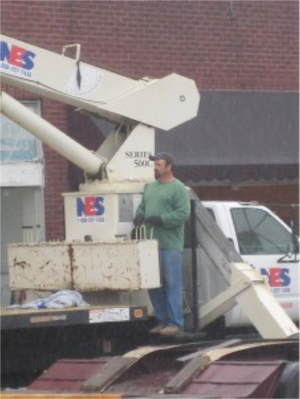 The building and construction are going along as planned and we are seeing progress every day.  We are still hoping to be sitting back in the summer/fall and drinking some of Josh's great beer!  The Kolsch that we brewed was really awesome and I can't wait for everyone to be able to share my excitement about this beer.  We have a lot going on this week and I will definitely be blogging about all the fun, progress, and enjoyment we are having at Mother Earth Brewing.
Peace, Love, and Beer.....................TM