Meet Greg, Pete & Travis... the beer guys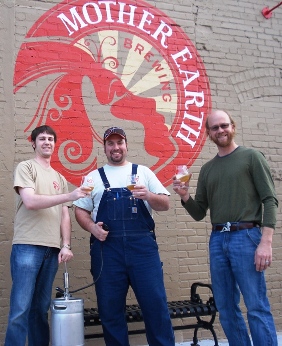 As you likely know, our Tap Room opens TOMORROW at 4p. This is the perfect time to introduce Mother Earth Brewing's brewery team to the world. After all, if it weren't for these guys, we'd all be at home drinking something much less exciting, and definitely not local.

Our Head Brewer is Josh D. Brewer. We've said a lot about him, and to learn more, read the recently released Know Your Brewer article. Josh, you're a great guy, but today I'm shining the spotlight on these three dudes:

Mother Earth Brewing's Assistant Brewer Greg Papp (center), Cellarman Pete Frey (right), and Taproom Manager Travis Quinn (left).
Greg found his way to Eastern NC by way of a simple web ad that declared our need for an Assistant Brewer. Greg's a graduate of West Chester University, West Chester, PA and has been in the beer business ever since. He's worked as a cellar manager and as a brewer, and in nearly every capacity imaginable in-between. He offers a wealth of knowledge, and lots of first-rate brewing stories too. As a member of the Mother Earth Brewing Team, Greg is Josh's 'right-hand-man', assisting him in all aspects of making top-quality beer. In his spare time Greg roots for the Phillies, enjoys the art of cheese making, and loves to fish... I'd say he's well-rounded.
Welcome to Eastern NC Greg.

Quote: "When the going gets weird, the weird turn pro." -Dr. Hunter S. Thompson
Fav beer style: IPA & Heffeweizen

Pete moved to NC in 1999 and came to Mother Earth Brewing from New Bern… but he's worked and travelled the world 'round. From working as a boat builder to Baker, and making his home in France, New Zealand and Utah (just to name a few) there is little this avid home brewer and adventure seeker hasn't done. Along the way he assembled an out-of-this-world beer can collection. An added bonus; he found love… his mega-creative wife Kristin. Pete performs a cornucopia of jobs in the brew-house.  On "bottling days" he takes center stage, with the all important job of ensuring each bottle makes a smooth run through the machine. He's also the guy responsible for filling 1000s of kegs. So next time you raise a bottle or a glass of Mother Earth beer, Cheers to Pete.

Quote: "One more, then we go"
Fav beer style: Ancient Herbal Healing Beers.

Travis hasn't been in the brewing business all that long, but after years of intense corporate work, he welcomes this fresh challenge. Travis manages our local accounts, ensuring no outlet runs dry of Mother Earth Brewing products. Now that the Taproom is (nearly) open, he's The guy in charge. When not managing dealings in the Taproom, he's still counted on to lend a hand in the brewery- namely as the last link in the beer bottling sequence. Travis closely follows the Carolina Hurricanes and Carolina Panthers, spends as much time at Lake Gaston as he can filling his days with wakeboarding, grilling and good beer… and prides himself on being an avid roller-coaster aficionado. Interesting mix.  Here's to the Taproom Travis!

Quote: "Life moves pretty fast.  If you don't stop and look around once in awhile, you could miss it." -Ferris Bueller. 
Fav beer style: American IPA