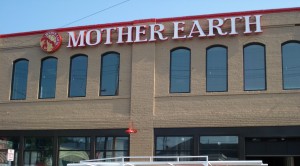 Mother Earth brewing sign
The lovely Mother Earth logo went up this week- proudly displayed on the beautiful exterior brick walls, she's telling all there's a brewery in town. With the night lights, she almost appears to come to life. Bottom line: our signs exceed expectations. Everyone I run into these days tells me how we've helped to renew an interest in downtown, and given the corner a successful face-lift. This was a goal from day 1, so thanks again for your thoughts and unending support. We still have a lot of work ahead of us, and we're looking forward to it all.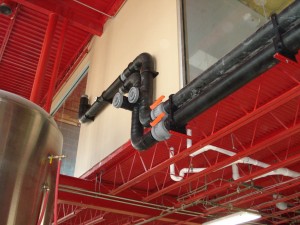 George Fisher Piping in Place
Inside the brewery, things continue to move along. Working through blistering heat (seriously, it was intense) everyone has pulled together to keep on schedule and make it happen. Here is a pic of just some of the piping required. The amount of fittings, pipe and connectors is mind blowing. The next (and final) big project: arrival and installation of the bottling line.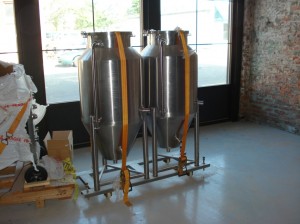 one barrel, experimental system
Here is a shot of our 1 barrel fermenters for our pilot system, which we'll use to make "test batches" of recipes we contrive.  We're really keyed up about it, and plan to use it habitually. 
Till next time
Peace, Love and Beer.........................................TM