We're Just Two Guys on Bikes...
We've had an incredibly busy fall with seemingly non-stop events. –Many of which have taken place in beautiful western NC… and it's the perfect time of year for a visit there. But yesterday's incredible sunshine and nice temps got me thinking about the beach. –And specifically the killer Outer Banks voyage Stephen and I took a few months ago to help promote Mother Earth Brewing. I've compiled this form jotted down handwritten notes that I made along our journey. This is the kind of stuff we live for. Read on and you'll see why.
Wednesday. August 18, 2010.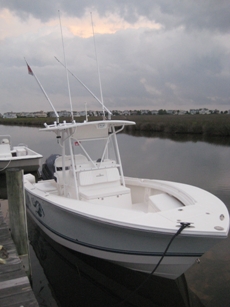 Today Stephen and I left on our journey to spend a few days in North Carolina Outer Banks visiting with accounts and having market workdays with our dynamite Tryon Sales reps in the area.  Since Stephen and I both have a love for the outdoors we decided to make our journey by boat on the good old Mother Earth Brew Boat.  We left Atlantic Beach and started our voyage down Adams Creek on the way to Ocracoke.  –Just reminds me, Again, of the beauty that NC offers… we are really fortunate to live here. The Pamlico Sound got pretty intense and we took a lot of water over the bow but we made it to Ocracoke safely (trying to forget why they call the Outer Banks region the Graveyard of the Atlantic!) After getting docked and showered we headed out to our first stop:  dinner at Dajio, which is a great Mother Earth account.  The food was unreal and everyone there was really excited to have us in town. My wife actually went to high school with the bartender and he took a lot of pride in selling MEB.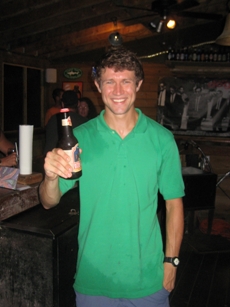 After Dajio we hopped on our bikes and headed down to Howards Pub.  We had a great time at Howards Pub and they proudly support MEB too. We actually met some really cool people while visiting Howards Pub (if you've been there, you know it's just that kind of place.) One guy in particular was awesome! He is in the navy and drove a submarine that in 200 yards long, that is pretty big.  Anyway, he enjoyed MEB so much we were able to talk him into singing Enter Sandman by Metallica- also covered by my all time favorite Widespread Panic-------bring on karaoke! This guy really rocked!!!!  Eventually (Howards is a place you lose time in!) Stephen and I hopped on our bikes and rode back to our rooms on silver lake for some rest for a big day on Thursday.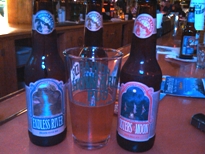 Thursday. August 19, 2010.
Today we woke up early. The day was beautiful- and we were glad to get an early start on visiting some great Ocracoke accounts.  But first, I took a nice 4 mile run and Stephen rode along side me on the bike. Bikes are the way-to-go on Ocracoke- you really miss a lot of the 'flavor' of the place via car. –That small super old graveyard tucked under the care of a grand old tree, chatting with a local walking their dog, or opening up their woodwork shop for the day (just a few of the joys we encountered.)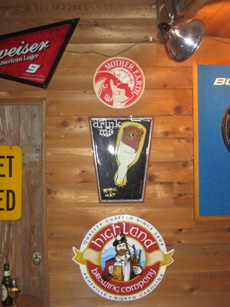 After we cooled down (and showered!)we met one of our Tryon reps., Stacey Walter, for lunch (and beers) at Howards Pub.  We then headed to Ocracoke Variety Store and met the owner there, a nice guy (and an excellent MEB account.)  …We started putting some miles on our bikes- as all our land travel was by bike, since we were just two guys on a boat! Next we headed off to Zillie's Island Pantry for a tasting. The owner was awesome, and we were psyched to have a great turnout.  As soon as out tasting was over we hauled butt back to the boat because we still had a long journey by boat to Nags Head and wanted to make it there by night.  We arrived in Nags Head safely with just moments to spare before nightfall. We got checked in, and cleaned up and headed back out to yet another MEB account: Full Moon Café. After filling up on some great food, it was time to get some Zs… so we headed back to our room and called it a night.
Friday. August 20, 2010.
Friday morning we woke up in Nags Head feeling refreshed and ready to visit some accounts.  Greg Dawson from Tryon picked us up (giving our legs a rest!) and we headed out spread Peace, Love, and Beer.  We headed for Corolla and we to see the guys at Corolla Wine Cigar & Gourmet.  We received a warm welcome, and they were strong supporters of Mother Earth Brewing.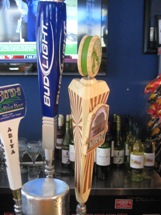 We then headed to Cosmos Pizza where they had Weeping Willow on Draft. The guys at Cosmos were really cool and we had a great time hanging out with them and enjoyed some good Wit.  Now, back down to Kitty Hawk to see the guys at Chips Beer and Wine market. Chips has a great NC selection of beer and we were really happy to see how depleted the MEB stock was.  Apparently there are some big MEB Lovers on the Outer Banks.  We partied pretty hard that night with Greg and had a great time! - I will leave it at that… let's just say we had a pretty awesome time with Greg.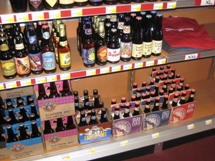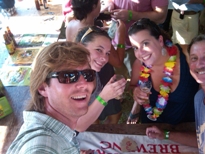 Saturday. August 21, 2010.

We woke up today and headed off to Kill Devil Hills for the annual Brew-Thru Festival.  It was an all day festival with a lot of bands and the crowd was fantastic! By the end of the festival we were pretty tired so we headed back to Nags Head and crashed… prepping for our long boat journey home the next day.  Sunday morning we got up early, made some sandwiches, and took to the sea. We made it back home safely in about 4 hours. Not a bad work trip: visited a Bunch of Mother Earth Brewing accounts, met a lot of cool people, ate some fantastic food, and even got in some sun and exercise along the way. –Like I said, this is the stuff we live for, and now you know why.

Peace, Love, and Beer………Trent